KUCHING, 26th August 2022 – Travel Agent Federation of India's (TAFI) delegates participating in TAFI Convention 2022 will be able to immerse themselves in a full-on Sarawak authentic experience with a tribal-inspired theme showcasing the best of its culture and gastronomical offerings.
To be held for the first time in Kuching, Sarawak from 20-23 September, the TAFI convention will highlight Sarawak's diverse ethnicities which comprise 28 ethnic tribes, all with their own unique traditions, lifestyles, music, food and handmade crafts. TAFI delegates will get to learn about Sarawak as an attractive multifaceted destination for the Indian market.
Among the exciting tribal activities planned throughout the conference are live cultural and music performances, live food demonstrations and traditional handicraft exhibition to maximise their Sarawak cultural and culinary experience during the convention.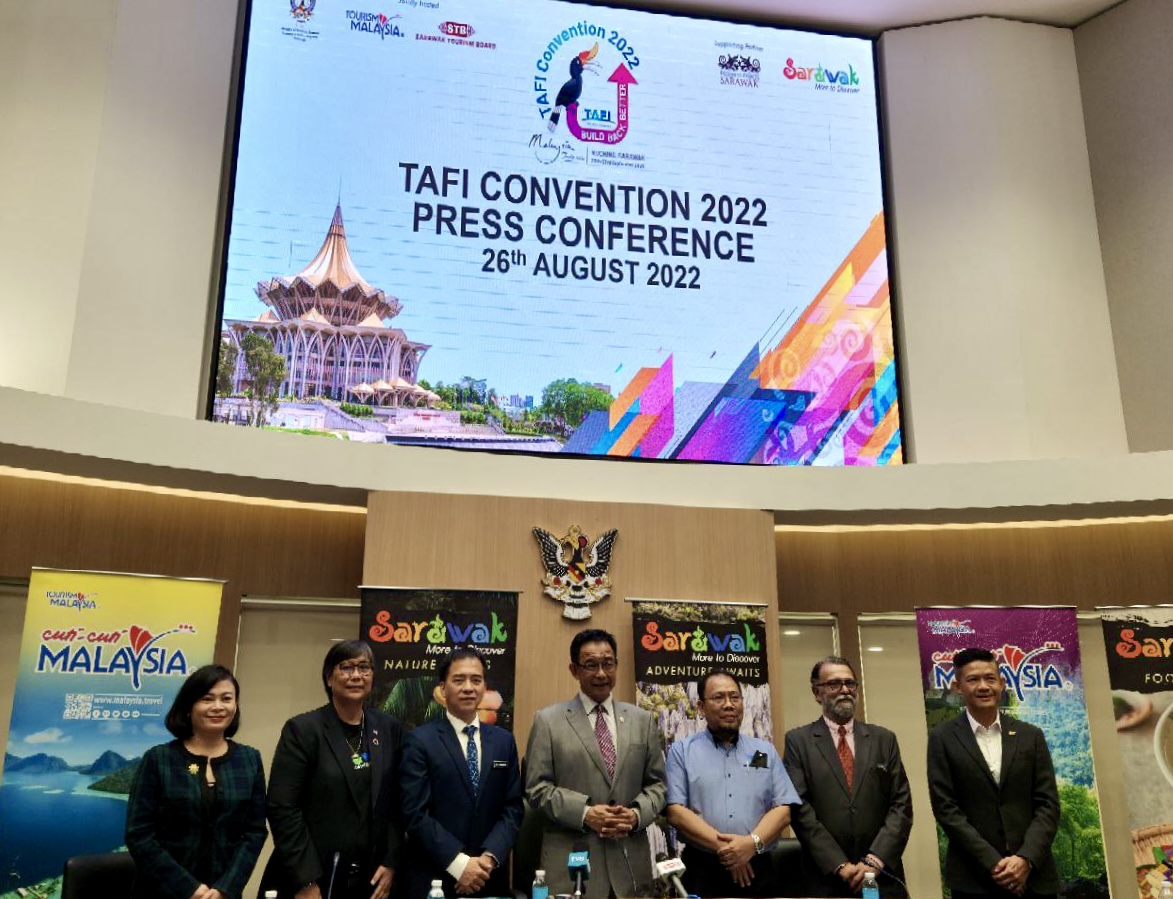 Focusing on building a more resilient tourism industry and responsible tourism post-pandemic, TAFI is incorporating the "Build Back Better" theme to promote sustainable and responsible tourism practices, conservation and advanced greening efforts.
Minister of Tourism, Creative Industry and Performing Arts Sarawak (MTCP) YB Dato Sri Haji Abdul Karim Rahman Hamzah said during the press conference that Indian tourist arrivals to Malaysia pre-pandemic in 2019 showed a positive trend with a 15% growth rate, while India ranked 5th place in terms of visitor arrivals to Sarawak, marking a significant potential for Sarawak to tap into the Indian market.
"There has been a positive increase of 304 per cent in visitor arrivals from India during the period of January to July 2022 compared to the same time period in 2021. TAFI Convention 2022 is a golden opportunity for us to ramp up Sarawak's visibility in India and also to showcase to our Indian travel agent partners why Sarawak should be their next destination of choice when it comes to tourism and business events," he added.
"We will be looking into bringing more arrivals to enjoy the wonders of Malaysia and its delights. Apart from our objective to instil confidence among Indians to feel safe to visit Malaysia again, we hope that this convention and business session provide a platform for the industry community to gather, exchange ideas, and return even stronger," said Dato' Zainuddin Abdul Wahab, Tourism Malaysia's Director General.
"I am also delighted to note that the resumption of scheduled international flights from India has been timely in promoting Malaysia to Indian travellers. Hence, we anticipate a 30% increase in the pre-pandemic arrivals to Malaysia this year. In 2019, the Indian market contributed 735,309 arrivals (22%) to the country," he added.
TAFI has organized their convention in Malaysia twice, in 1999 in Kuala Lumpur and 2007 in Kota Kinabalu, Sabah. This will be the third convention that will be held in Malaysia.
Sarawak Tourism Board CEO Sharzede Datu Haji Salleh Askor said: "We are happy to welcome the TAFI delegates to our shores soon. As we see signs of recovery, now is a crucial time to build back better and this process begins with seeing the confidence of a group of key tourism players to gather here in Sarawak."
"Business events such as TAFI Convention 2022 are great platforms to initiate change, motivation and collaborations," expressed Amelia Roziman, Business Events Sarawak's CEO. "TAFI's collaboration with STB and Tourism Malaysia is an exemplary strategy for developing the Indian travel market in Malaysia, and the convention will be a powerful catalyst in bridging the gap between India and Malaysia."
Meanwhile, Ajay Prakash, president of TAFI said: "Sarawak is a relatively unexplored destination for the Indian traveller. We anticipate that after the convention, our members will be inspired to promote tourism to this beautiful province since it can be a great venue for destination weddings, family travel and corporate events."
"We deeply appreciate the support given by Sarawak Tourism Board, Business Events Sarawak, Tourism Malaysia and our Official Carrier, Malaysia Airlines," he added.
ABOUT TAFI CONVENTION 2022
The Travel Agents Federation of India (TAFI) Convention 2022 is scheduled to be held in Sarawak for the first time from 20th – 23rd September with an expected arrival of over 500 TAFI members from India.
Themed "Build Back Better", the convention will explore strategies to integrate sustainability into the heart of every tourism business. As one of the largest global industries, Travel & Tourism – which accounts for close to 10 percent of global GDP and employs one in 10 persons worldwide, the industry has the power to shape the world and the potential to be a powerful force for good.
Speakers include industry players, state government representatives, as well as leaders from the tourism industry, who will take part in stimulating dialogues with ways to build resilience as the tourism industry moves beyond the pandemic.