Who
Sarawak Tourism Board representing Sarawak at WTM London
What
World Travel Market London, a leading international travel event
When
7th till 9th November 2022
Where
Excel, London, UK
Why

To enhance visibility of Sarawak towards EU market
Creating brand awareness
Promoting eco-tourism sights

How
Direct to STB website for further queries
The spotlight centres on the gracious Land of Hornbill, Sarawak and all of the curiosity that comes with it, as this year Sarawak will be participating in World Travel Market London Trade Fair (WTM London)!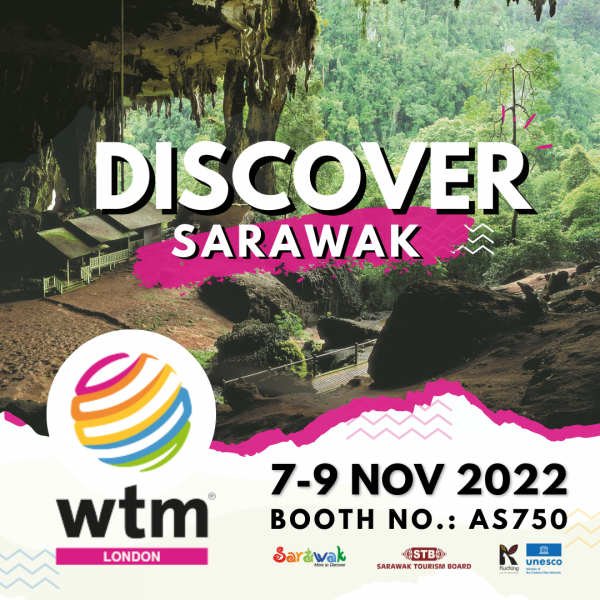 World Travel Market London Trade Fair is only a few weeks away and guess who is coming? Sarawak! This year Sarawak will be taking part in WTM London from 7th – 9th November 2022. With so much to see and do, your time in Sarawak will be one to remember for a lifetime! You will always feel the warmth and sincerity of the people, as well as the beauty of nature, no matter how many times you visit. So, what should you know about the WTM London Trade Fair? WTM London Trade Fair is the leading international travel event that assists inbound and outbound tourism professionals create business opportunities.
Let's get to know the sweetheart of Borneo, Sarawak! Compared to the western part of Malaysia, Sarawak has developed its own distinctive culture. There are 31 different ethnic groups in Sarawak, and they each possess their own histories, ideologies, customs and cultures. As proof, this can be seen through the intriguing tribal customs, extensive Brooke Dynasty lineage, and, of course, Sarawak is well known for our festivals too, where everyone can join in the fun and festivities all year round!
Sarawak is known for its pristine and biodiverse rainforest, rich history and culture. People flock to this state to experience the unspoilt natural beauty of the forests. Sarawak has established ecological sites that are accessible to the public, and some of these sites have become popular attractions to the locals and tourists. This includes 'Niah' National Park, which is the heart of early human civilization in the region and consists of its archaeological significance. Gua Niah is a nationally important archaeological area and in 2010, 2019, and 2022, the Sarawak state government nominated the park for UNESCO World Heritage Site title.
The majestic Gunung Mulu National Park stands out among Sarawak's attractions. This fascinating tropical rainforest is home to some of the world's largest, longest, and most fascinating cave systems! The Mulu mountains conceal some of the world's most impressive subterranean systems, shaped over millions of years. The four requirements for a UNESCO World Heritage Site are met by Gunung Mulu National Park. Fewer than twenty UNESCO World Heritage sites have achieved this feat, and here is what it means for tourism! Mountains of exceptional beauty, combined with massive river systems, a tropical rainforest and massive caves!
Let's dive into Miri-Sibuti Coral Reefs National Park! The Miri-Sibuti Coral Reefs National Park is a coral reef conservation area in Miri Division, Sarawak, Malaysia, off the coast of Borneo. Dive sites in Miri-Sibuti Coral Reefs range from comfortable environments for new divers to deeper dives for those who prefer more untouched areas. There are some wreck dives as well. It is one of Malaysia's most recently discovered diving locations, as well as the state of Sarawak's largest offshore national park! And did you know the reefs' diversity and accessibility to corals and other marine life are among the best in the region!
Pretty sure we all heard of this little fella, Orangutans! The Semenggoh Wildlife Centre of the Semenggoh Nature Reserve is by far Sarawak's largest Orangutan Rehabilitation Centre. Here you can find not only Orangutans but habitat for rare flora and fauna including the giant squirrel, pygmy squirrel, gibbons and splendid variety of birds. The centre serves as a habitat for orangutans as well as a learning centre for visitors interested in learning more about the endangered rare species.
With Sarawak's capital Kuching accepted to the UNESCO Creative Cities Network (UCCN) in the field of gastronomy in 2021, it is only fitting that you go on a culinary adventure! Don't miss out on culinary icons such as Sarawak Laksa, Manok Pansoh (chicken cooked in bamboo) and Kolo Mee. Kuching, Sarawak, is Malaysia's first creative city to receive such recognition from the Unesco Creative Cities Network (UCCN). It connects 49 cities worldwide, from Brazil to Australia! Kuching is named Creative City of Gastronomy for its distinct gourmet legacy and for observing how traditional cuisine culture has evolved into a transnational type of creativity.
In 2019, Kuching was awarded "World Craft Cities" status by the World Craft Council, joining the ranks of more than 20 other world craft cities including those in Indonesia, China, India, and Thailand. The city is also known as the hub and gateway to the crafts of Sarawak's indigenous tribes and the rest of Borneo. Textiles, beadwork, bamboo and rattan basketry are examples of the richness and diversity of their traditions and cultures.
In terms of culture and heritage, the keringkam is an asset to the Malay community as it is regarded as a priceless heirloom in Malay families and is typically reserved for special occasions such as weddings and formal gatherings. Keringkam is a luxurious head covering or veil made with gold thread embroidery and used to be a status symbol of wealth and class.
The Penan community is synonymous with the use of forest products for survival and have made great strides toward modernity as their indigenous weaving art has produced signature handicrafts such as Penan Women Basket. The iconic hand-woven bags affectionately known as "Penan bags" have become enormously popular not just here in Sarawak but also internationally.
We are Sarawak, and we are proud of our diverse and unique culture. We are coming to WTM London Trade Fair 2022! Come make new connections , explore new opportunities, and discover the hidden treasures nestled in Sarawak. Visit our booth : AS750 at WTM London Trade Fair 2022!