Discover wonderful Sarawak food, ranging from famous street staples to exotic delicacies. Siniawan Night Market has a lot to offer! Whether you're into street food, snacks, or must-try local dishes. View how this small heritage site comes to life at night!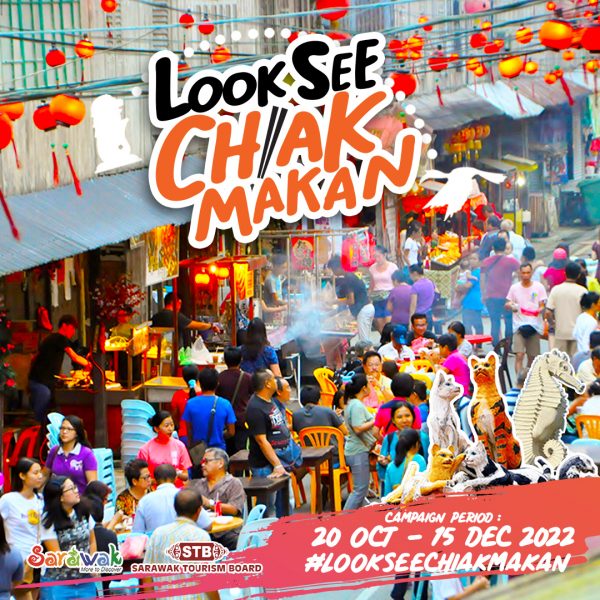 As dusk falls, you'll notice that its streets come to life with vendors selling a wide variety of mouth-watering food and dangling red lanterns. Located 21 km away from Kuching, Siniawan Night Market takes place every Friday, Saturday and Sunday in the evenings. This vibrant small town is a beautiful place to spend the evening eating and being merry.
Let's get to know Siniawan before moving on to the top 5 local foods! In the past, Siniawan provided services for the gold miners in the nearby Sarawak town of Bau. It was already in place when white Rajah James Brooke first set foot in the state. Also, did you know? Siniawan has been designated as a heritage town as a result of the community's extensive historical past! This location has retained the original building design and architecture to this day.
The Siniawan Night Market is a single roadway flanked on either side by 24 wooden shop buildings, which are connected by rows of traditional lanterns. Because it is a literal food street, you can find not only Chinese food but also well-known delicacies like the oyster omelette! It has a thin, crispy texture. It has a 'roti tisu' texture that is ideal for sharing as a snack. The oyster omelette plate is made of flour and egg and deep fried until crispy. You can eat it on its own or with the soy sauce that is provided separately. This local favourite is easily found at Siniawan Night Market because it is a common snack there!
They are so aromatic that one can smell them from a mile away! Ngoh Hiang is another must-try food in Siniawan Night Market. You can eat it as it is or pair it with a mug of cold beer or even enjoy it with a bowl of rice. Ngoh Hiang is a deep-fried roll made with veggies and spiced minced pork that is wrapped in a beancurd skin. It is called after the Chinese five spice powder that gives the rolls their distinctive flavour. Usually served with chilli sauce dip, this perfect combination will make you crave for more. First steamed, then pan-fried to a crisp, one bite of these juicy chunks is never enough as it can work up a massive appetite by the time these rolls hit the table, thanks to the aromas that leak out in the cooking process.
Where else can you find Kolo mee if its not here! Kolo mee is a Sarawakian favourite for breakfast, lunch and dinner. This simple dish is a must-try for every tourist coming to Siniawan Night Market. Kolo mee contains egg noodles that are tossed in sauce and topped or served with sliced barbequed pork (char siu), and fried onions. Kolo mee can be additionally enriched with fish balls, wontons, and vegetables such as choy sum (vegetable).
Manok Pansoh, a traditional and popular Siniawan delicacy is another local favourite. Served inside a hollow bamboo cane, the chicken meat is cooked with lemongrass, garlic, salk, tapioca leaves, and ginger. No visit to the Siniawan Night Market is complete without sampling these iconic Manok Pansoh!
Who hasn't heard of Sarawak Laksa? This dish is definitely worth a try! Sarawak Laksa is a flavourful Sarawakian noodle soup that is spicy, brilliant, and warming. It's a noodle soup like no other. The flavours push and pull against each other, delivering depth of flavour with each spoonful. In fact, it topped Anthony Bourdain's list of the top ten dishes for his up – coming food market in New York City. And, if Anthony Bourdain refers to the dish as "breakfast of gods," you know it's deserving!
So, what are you waiting for? It's time to add Siniawan Night Market to your bucket list!