SARAWAK STATE LEGISLATIVE HALL (DEWAN UNDANGAN NEGERI SARAWAK)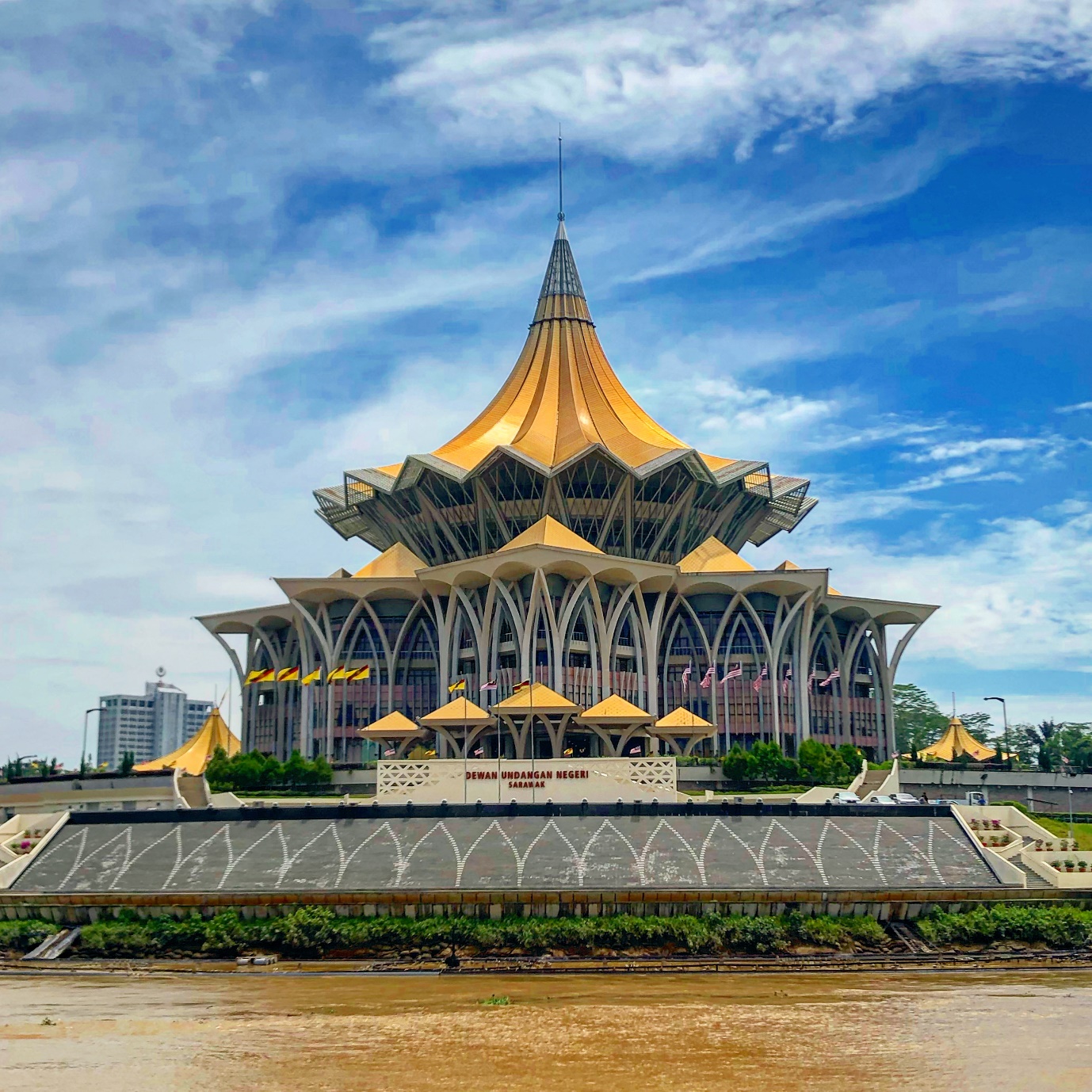 Kuching achieved the status as Malaysia's first-ever Creative City of Gastronomy in Malaysia back in November 2021 and lives up to the title with its abundance of traditional food bazaars and indigenous ethnic cuisines. As the most populous city in the state, our food heritage is extremely diverse with multi-cultural influences originating from the 31 Sarawakian ethnic groups. This means that we have food that caters to people from all backgrounds and religions, including our Muslim friends. Enjoy these eateries which have Halal certifications as recommended by the Sarawakian Islamic board.
Start off your journey by enriching your taste buds with iconic Sarawak cuisine, head straight to Serapi Corner located at the Rich Commercial Centre at Batu 7. At this restaurant, you will have the chance to order all the Sarawakian must-try dishes that are typically listed in food blog recommendations; Sarawak Laksa (rice noodle drowned in a spicy broth), Mee Kolok (savoury egg noodle with sliced meat served with bowl of soup on the side), Crispy Tomato Mee (Crispy egg noodles, fish cakes, vegetables and meat slices coated in an appetising tomato sauce), and Midin Belacan (wild Sarawakian fern stir fried with an authentic Malaysian shrimp paste). Serapi Corner also serves other Peninsular Malaysian cuisines in their extensive range.
LAKSA SARAWAK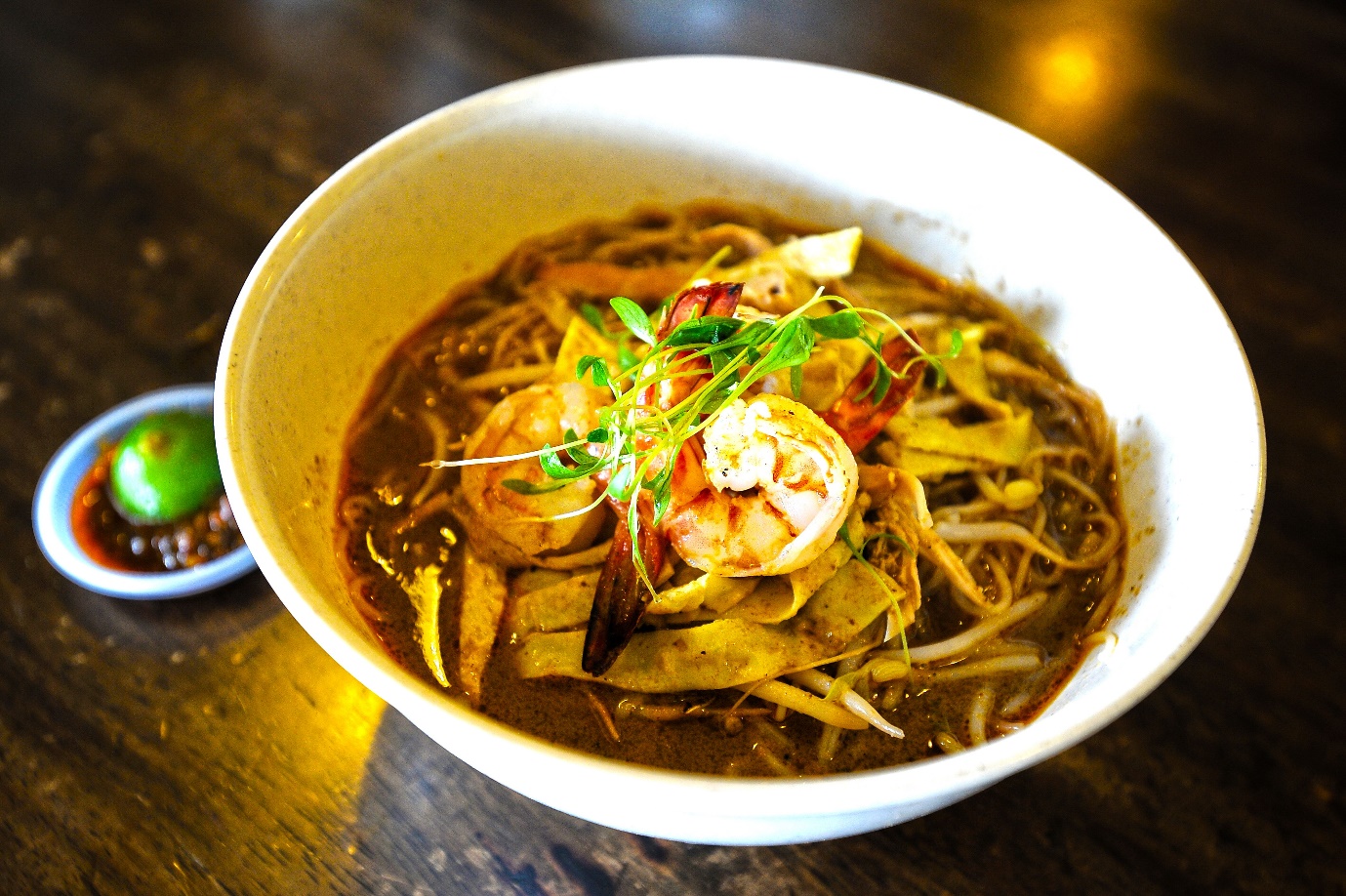 Arguably the most popular hub for seafood fanatics in Kuching is Topspot Food Court in Jalan Padungan. Customers can enjoy a vast seafood selection for affordable prices. Some unique Sarawakian seafood dishes are buttered fish fillets, salted egg crab, cheese baked prawns and steamed fish. Alongside that, you may enjoy refreshments such as whole coconuts and sugarcane that is freshly squeezed. The two stalls which we would strongly recommend are Ling Loong Seafood and No. 25 Bukit Mata Seafood Centre.
Next, Babaganoush in Pending Kuching is a perfect option for those who would like to comfortably share a feast with friends and family. This restaurant offers Malay and halal Chinese cuisine but they are most reputed for their seafood selections in the menu. Some special dishes that are recommended when dining here are the crispy oyster pancake, obor-obor (jellyfish leg umai), fried fish roe and salted fish fried rice. Do not fret if you or anyone else you are dining with has a seafood allergy as the rest of their menu also received great reviews from experienced diners.
You can find Bumbu Cabe a short drive away if you are craving for some Indonesian Sundanese cuisine instead. Spicy food lovers are sure to trigger their taste buds at this place as the chefs do not cut back on the spices in their dishes. Their sambal is so well loved that you might have previously spotted some of their homemade sambal products sold elsewhere. If you are not a fan of spicy food, you can leave a remark for the kitchen or have a pick at their non-spicy options. Some of their most popular dishes would be their crispy fried whole tilapia fish, nasi liwet ayam taliwang (Spicy Grilled Chicken with coconut milk infused rice) and Crispy Bayam.
For the native flavours of Sarawak, it is highly recommended for travellers to eat at Lepau Restaurant at Jalan Ban Hock as they brand themselves as a Sarawak Ethnic restaurant. Their menu consists of dishes inherited from the Orang Ulu and Dayak ancestries. Most customers favour their variety of dishes which include their Manok Pansuh, a chicken dish which is infused with a palette of flavours stuffed into a bamboo tube which is then roasted over an open fire. Aside from that, customers should also order their Sup Terung Asam Ikan Salai, Dried Chilli Fish and Fish Umai. Lepau Restaurant has also decorated their interior suitable for customers to lounge comfortably and capture aesthetic pictures.
Ceylonese Restaurant is a great place to eat after exploring the heritage sites along the Sarawak River. This restaurant mainly serves Sri Lankan cuisines and are well known for their cheese-filled naans and banana fritters topped with shredded cheese. The generous portion sizes by this restaurant is definitely going to keep a few stomachs satisfied, especially if you are planning to order a few items to try. The Ceylonese Restaurant also has items that can cater to their vegan or vegetarian customers.
Complement your meal with a view at one of the best reviewed restaurants in Kuching, Raintree Restaurant. Diners can grab seats where they can admire the scenery by overlooking the Sarawak River from the Borneo Convention Center Kuching. If you are travelling with others and cannot seem to make a decision on a single type of cuisine, the Raintree Restaurant covers favourite local dishes, international European type dishes and fusion dishes.
We have also prepared a list of mosques which are not only well known for their prestigious appearance, but also nearby to these eateries for your convenience. Travellers can consider the Masjid Jamek, otherwise known as the Sarawak State mosque, Darul Hana Mosque, Masjid Darul Ittihaad Kenyalang Park and India Mosque, also often referred to as the floating mosque. The areas surrounding these mosques also have commercial areas where one could stop by to shop or try other Sarawakian delicacies.
FLOATING MOSQUE (MASJID INDIA)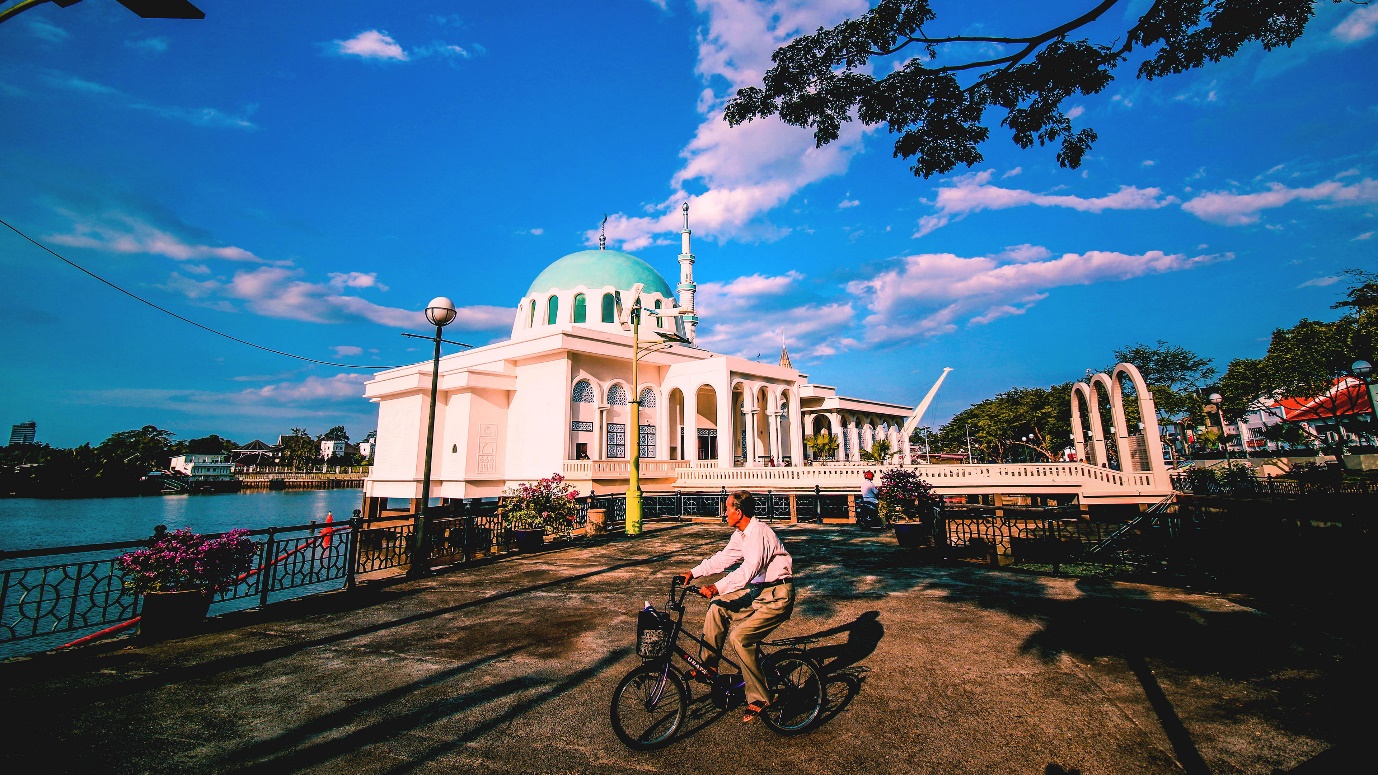 KEK LAPIS SARAWAK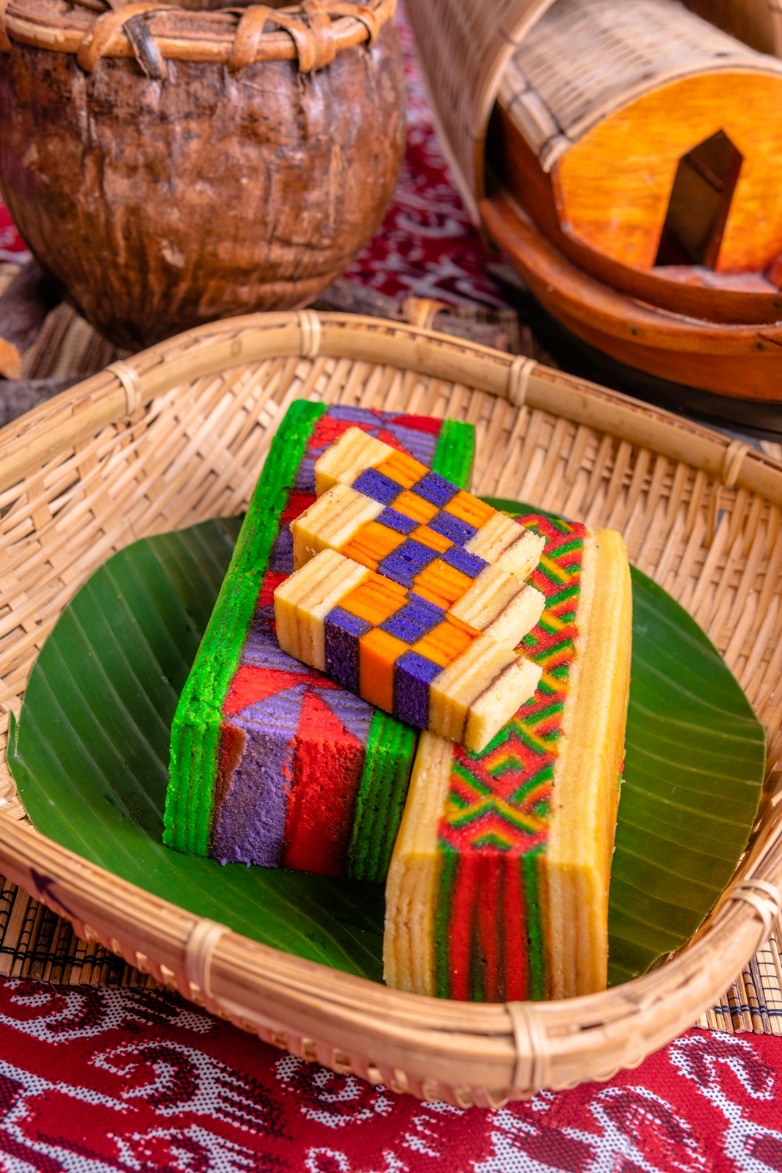 All in all, trying the variants of food the "city of cats" has to offer is an uncompromisable activity during your visit. In Sarawak, food is a highly pertinent factor when trying to familiarise oneself with the cultures originated in their land. Due to the diversity in cultural backgrounds that can be found in Sarawak, it is highly convenient to find eateries which cater to one's eating habits or requirements. We hope that this article is able to guide you during your stay in Kuching. If you require any more travel tips and recommendations to make the most of your time in Sarawak, please visit https://sarawaktourism.com/.