News
Sarawak in The Spotlight at The PATA Destination Marketing Forum 2021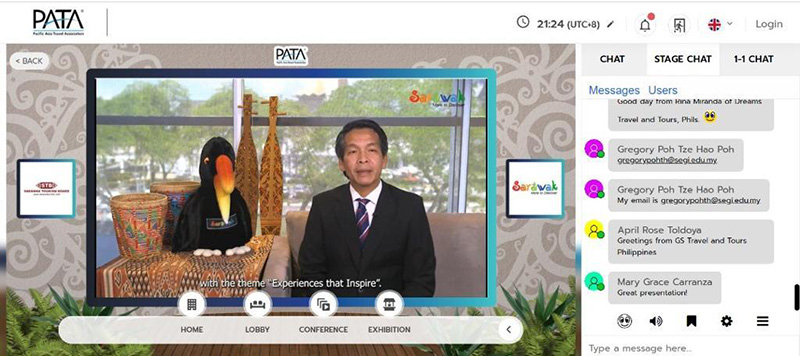 Kuching was chosen as the featured destination in the virtual Pasific Asia Travel Association (PATA) Destination Marketing Forum 2021, held on 25th – 26th November 2021, which gathered the top minds in destination marketing and management across Asia Pacific.
Themed 'Experiences that Inspire', about 700 delegates from 62 countries attended the two-day virtual event and had the opportunity to view virtual tours across Sarawak, as well as presentations and panel discussions on the latest topics in destination marketing and management.
Puan Sharzede Datu Haji Salleh Askor, Chief Executive Officer of Sarawak Tourism Board said, "We are heartened to be the featured destination for the Virtual PATA Destination Marketing Forum 2021. Blessed with breath-taking natural wonders, rich cultural heritage and hidden gems sprinkled throughout its vast lands, Sarawak is an unrivalled adventure into nature, history, and culture."
"It was a privilege for us to share the uniqueness of our state with industry players from across Asia Pacific. Through virtual tours, we were also able to offer delegates an immersive experience to showcase Sarawak's culture, adventure, nature, food, and festivals."
Supported by the Ministry of Tourism, Arts & Culture Sarawak and the Sarawak Tourism Board (STB), the event builds upon the global movement towards purposeful travel, wherein visitors share a vision of doing more for themselves and others.
"The tourism industry will never be the same. Therefore, our efforts are to build and create a sustainable tourism with the global movement towards purposeful travel, for visitors to take ownership of their travel experiences so we can create a bigger impact for destinations and communities."
"We believe education begins from home. Thus, we are continuously educating our stakeholders at all levels on sustainable tourism through engagement sessions and forums so they understand that responsible tourism will create a better future for people, planet and profit," Sharzede added.
At the forum, delegates also had the opportunity to win attractive travel packages via photography contests and quizzes. This included the coveted Grand Prize of a 3-day 2-night trip to Miri valued at USD1,500.
STB will continue actively participate in B2B and B2C virtual events such as the PATA Destination Marketing Forum 2021 to bridge a gap and continuously update their tourism partners with Sarawak's products and experiences.
The forum also featured a special presentation on the RWMF helmed by Datu Aloysius Dris, one of the pioneers of the festival and Robert Basiuk, who helped co-found the event. During the session, Datu Aloysius Dris said, "RWMF is an event that was timely when it was first introduced. We were thinking about creating a homegrown festival that is authentically Sarawakian in nature. Although we had little knowledge on running a festival, we were ambitious to share what we have with the world. With the first festival, we decided to zero in on the Sarawak Cultural Village, which was already an iconic tourist spot in Sarawak. Everyone involved put their heart into the festival, and we had good response from audiences."
Robert Basiuk added that the festival came about after several discussions with a Canadian musicologist, Randy Raine-Reusch. "He told me that me that Sarawakian music fit into a new genre of music called world music. We then discussed the possibility of Sarawak having an annual music festival and to test the idea, a group of local musicians were formed to take Sarawak music to the world stage at the World Music Expo festival in Marseilles, France."
For more information about Sarawak, log on to Sarawak Tourism Board's website: https://sarawaktourism.com.